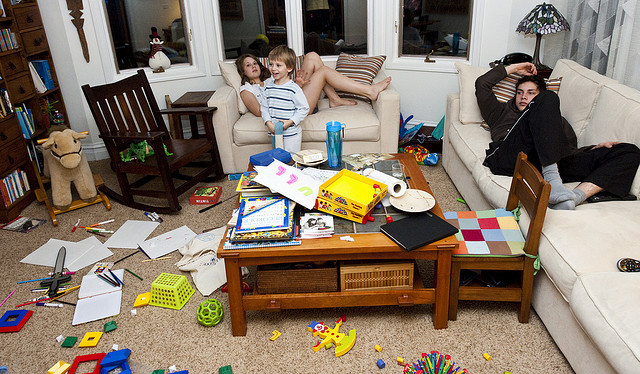 Have you noticed that your house has changed from from "everything in its place" to "where did all this stuff come from?" Does the phrase "go clean your room" meet with a look of confused silence? Have you ever suffered a painful injury from stepping on Legos or other small toy parts?
If you answered "yes" to any of these questions, you are probably a parent. Whether or not you were organizationally challenged before welcoming a blessed little one (or two) into your space, no doubt their addition has changed the look and feel of your once-calm home. It's true: babies and kids come with lots of extra "stuff."  Your challenge is to tame the stuff and regain control over your space. The tips below may bring you back some sanity:
1) Bin for charity. Keep an empty bin in or near each child's closet for clothes that no longer fit or aren't being used. When full, take to a local charity. 
2) Start them young. Children as young as 3 can start to help with basic organizing tasks – i.e. putting things away in the proper place – dirty or clean clothes, silverware from the dishwasher, recyclables, and their toys.
3) Store "like" things together. Designate a "home" for "like" items – i.e. all wheeled toys, or all picture toys, books, or all PJs, and then show your child where they go so that there is no confusion when you ask him/her to "clean up." Put pictures or labels on each container or shelf to make it clear. This helps with reading skills, too.
4) 10-Minute Clean-Up. Start the practice of a 10-minute "clean-up time" every night before bed. Everyone who lives in the house can participate by looking for things that are out of place and returning them to their "homes." You can even make it into a competition – the one who returns the most items gets a prize.
5) One Project at a time. Help children get into the habit of cleaning/picking up one project before starting another one.
6) Purge twice a year. Make it a practice to purge old toys, books, and clothes at least twice a year – either as the seasons change, or before birthdays and Christmas. Do it with your child so that s/he learns how to prioritize the importance of things.  Remind him/her that it will be difficult to find homes for any new things they will receive if they don't make choices about the old things. One way to help them make choices is to give parameters about what they can keep – i.e. choose your favorite 5 stuffed animals to keep, or only one bin of Legos ,or 3 blue shirts (emphasize what they get to keep, not what they have to let go of) Donate useable items to charity.
7) Have a no gifts policy. Consider a "no gifts" policy at birthday parties. This may sound controversial, but think about whether your child really needs more "stuff" that will fill your home. Give suggestions to invitees for alternative gifts such as activities or outings.  Similarly, don't contribute to your guests' home clutter by handing out trinkets of nominal value as "party gifts."
8) Designate bags per sport. Designate one bag for each sport or activity. Keep everything required for that sport or activity in only that bag – i.e. equipment, water bottle, sunscreen, etc. Grab the bag when it's time to go!
9) Use your child's favorite space. Notice where your child is most likely to spend time – it may not be in his/her room. Choose that space to set up a homework supply zone – pens, pencils, pencil sharpener, paper, erasers, etc. Require that all items are returned to their storage area before leaving the room.
10) Display and purge. Display art projects for a designated time; purge on a regular basis. If you want to remember a special creation, take a picture of your child with it, and create a digital photo book.
11) Accept it. Accept the fact that while you have young children, your home will not resemble a magazine shoot. It's OK to have kid stuff around the house, as long as it is contained when not in use.
Implement these steps today and you'll be amazed at how quickly the clutter in your home is reduced. Not only will you feel better but you'll be more focused too.
Contact Memory Spring for more information on improving your memory and brain health. You can reach us at (530) 297-6464 or click here to email us.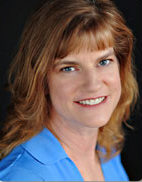 Gwynnae Byrd is a mom and the owner of Home Transitions, a full service professional home organizing company in Sacramento, CA. She strives to help her clients declutter, simplify, and breathe. Visit her website at www.SacHomeTransistions.com.